Diagnosis and Treatment of Epistaxis: Preventing Septal Perforations
HHT Overview
Hereditary Hemorrhagic Telangiectasia (HHT) is a hereditary disorder characterized by abnormal clusters of weak bulging capillaries that bleed with little to no trauma or insult. They most commonly affect the nasal mucosa, but also involve the gut, skin, brain and lungs as well. Clinically patients most commonly report a history of recurrent nosebleeds (epistaxis) before being diagnosed with HHT and may suffer from lifelong recurrent epistaxis that may increase in severity as the patient ages. Epistaxis may be a simple nuisance to the patient or severe bleeding requiring multiple transfusions, hospitalizations and significantly impacting a patient's work and social life.
Clinical Challenge
Treatment of HHT related epistaxis is often administered when the HHT patient has an acute nosebleed episode and may including nasal packing or cauterization of the acute bleeding site. The problem with this method of cautery is that the bleeding site is poorly visualized in the acutely bloody nose. The ideal setting would include; visualization under magnified endoscopy, a secure airway (intubation, general anesthesia) to prevent blood trickling down the throat and causing coughing during the procedure, and some form of cautery to stop the bleeding. This would typically require the patient to be taken to the operating room, placed under general anesthesia and cautery performed with direct visualization. Even in this scenario the bleeding site is difficult to locate because the patient may have multiple telangiectasias sites within the nose. It may be a "coin toss" to decide which telangiectasia is the culprit in a particular nosebleed episode. If all of the HHT telangiectasia sites are treated at once it may lead comprise of the blood supply to the nasal septum leading to a septal perforation from over-cauterization.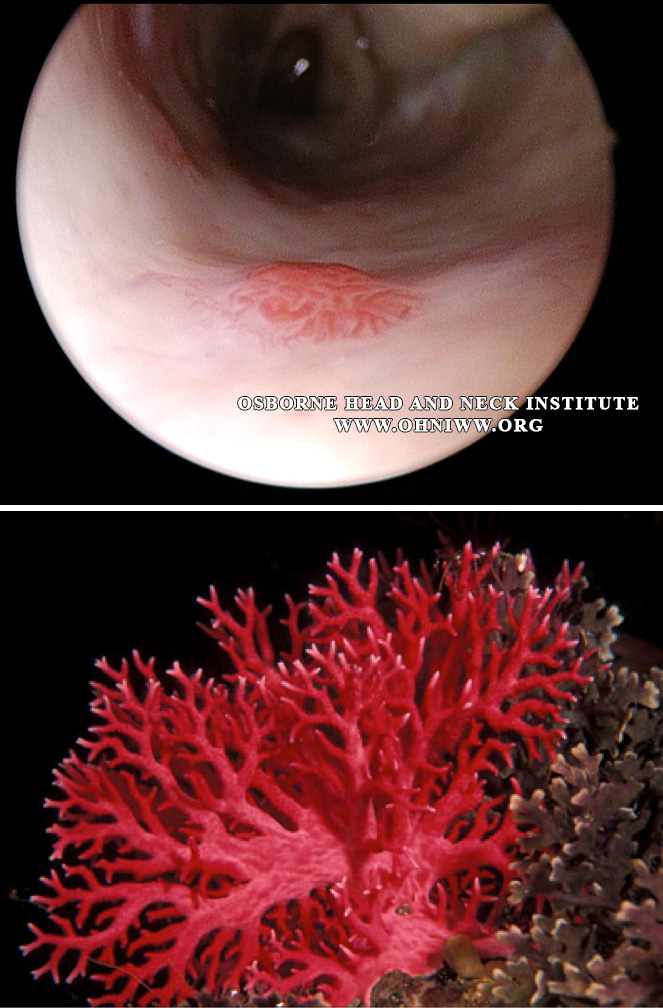 Clinical Considerations
The ideal management protocol for the HHT patient with clinically significant epistaxis would be to treat potential bleeding sites early, between acute episodes of epistaxis, when the telangiectasias can easily visualized and cauterization procedures can be spaced out to allow the nose to recovery between sessions. This helps prevent compromising the blood supply to healthy mucosa and minimizes the risk of septal perforations. Early control of HHT epistaxis may also prevent the need for Young's procedure or a septal perforation repair surgery, which are much more difficult procedures to perform and has longer recovery times.
Surgeon Comments
Dr. Jason Hamilton, Director of Plastic and Reconstructive Surgery at the Osborne Head and Neck Institute, is double board certified by the American Board of Facial Plastic and Reconstructive Surgery and the American Board of Otolaryngology/Head and Neck Surgery. His extensive training and expertise provide him with a unique perspective to address both functional and aesthetic concerns of the nose.
Download Article PDF
For more information on hereditary hemorrhagic telangiectasia or septal perforation repair, please contact the Osborne Head and Neck Institute or visit www.perforatedseptum.com.