CLINICAL CHALLENGE
Septal perforation (a hole in the nasal septum) is considered a major complication after septoplasty. Septoplasty is typically performed to correct a deviated septum in a patient who complains of nasal obstruction. In a successful case the obstruction is relieved, the septum is straight, and the patient is happy with their newfound nasal airflow. A septal perforation is typically caused at the time of septoplasty surgery by errant surgical dissection, where in, a hole is torn through the nasal mucosal lining causing the initial perforation. The mucosal lining protects and covers the underlying delicate nasal cartilage. If not immediately identified and properly repaired at the time of surgery a septal perforation can occur.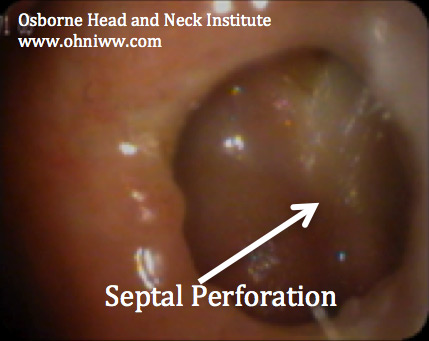 MANAGEMENT CONSIDERATIONS
A patient with a septal perforation after septoplasty should be followed very closely, placed on a special regimen, and the septal perforation repaired as soon as possible. We have heard from many patients that their physicians try a "watch and wait" approach to see if the perforation will heal, or tell the patient not to worry about the perforation. We feel this is generally not the best management. Although it is true that the edges of a fresh septal perforation may heal, the hole itself will not heal spontaneously.
FACT: A SEPTAL PERFORATION WILL NEVER HEAL ON ITS OWN.
Initial management includes humidification, antibiotic irrigation, avoidance of rhinotillexis (nose picking), and emollients. After an appropriate amount of time has passed the perforation can be surgically repaired.
SURGICAL CONSIDERATIONS
The natural history of an untreated septal perforation is enlargement of the hole over time. For this reason septal perforation surgery has the best outcome when performed early. If the perforation becomes too large successful repair may become impossible. We always advise early intervention to achieve the best outcome. In cases of rhinoplasty or septoplasty causing a septal perforation we may have to wait until initial surgical swelling has resolved before performing surgical repair. Because of the timing of repair, surgical experience in septal perforation repair is crucial. The patient may need to seek help outside of the initial surgeon's evaluation and request a septal perforation specialist.
SURGEON COMMENTS
Dr. Hamilton- "With close follow-up and early intervention we have been able to achieve a 99% success rate for patients suffering from septal perforations. We place patients on a special program that helps them to heal extremely fast and get back to life, putting their perforation behind them. It has been very rewarding helping patients with such a difficult problem." Patient stories with Dr. Hamilton
Dr. Jason Hamilton is the Director of Plastic and Reconstructive Surgery for the Osborne Head and Neck Institute, and is double board certified by the American Board of Facial Plastic and Reconstructive Surgery and the American Board of Otolaryngology/Head and Neck Surgery. Dr. Hamilton is one of only handful of septal perforation specialist worldwide.
For more information on the deviated septum, septoplasty, functional rhinoplasty and septal perforation repair by Dr. Jason Hamilton, septal perforation specialist, please contact the Osborne Head and Neck Institute or visit
www.perforatedseptum.com.