Case Report
Male in his 50s was diagnosed with basal cell carcinoma of the left cheek, just below the eyelid. He underwent Mohs surgical excision of this cancer and was referred to Dr. Zandifar for closure of the large resultant defect. Patient was seen and defect surgically corrected. After 3 months the scar is not noticeable with there is no change in the position of the eyelid.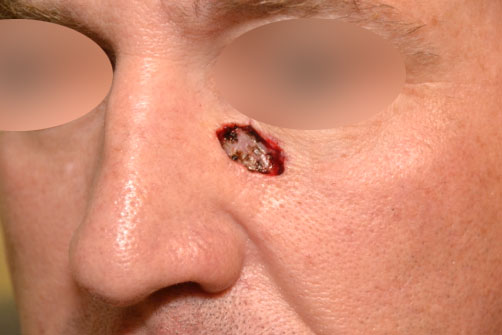 Discussion 
Defects of the cheek after excision of skin cancer, can pose various challenges depending on their location. For example, closure of defects close to the eyelid can cause change to the shape of the eye and difficulty with eye closure. Repair of defects closer to the lip can also cause changes in eating and lip closure. Furthermore, the cheeks occupy a large surface area of the face and offer few if any natural lines and wrinkles to hide scars. Appropriate planning is key to obtaining a cosmetically acceptable scar. The trained reconstructive surgeon must have the experience to address these factors when performing closure of any cheek defects.
Surgeons' Comments
Dr. Hootan Zandifar is double board certified by the American Board of Facial Plastic and Reconstructive Surgery and the American Board of Otolaryngology/Head and Neck Surgery. His training gives him the unique ability to address cosmetic and functional issues that arise during reconstructive surgery of the head and neck.