Case Presentation
A female patient in her 30's was referred by a dermatologist for left cheek dysplastic nevus, a pre-melanoma lesion that required a wide resection. The patient's lesion was 1.5 cm by 1.2 cm in size while defect after excision with margins was 3 cm by 3 cm. The wound was reconstructed with a V to Y flap which not only allows for movement of tissue from below that is attached to the blood supply but also minimizes post-operative scarring. Sutures were removed a week after surgery and laser treatment was utilized monthly for 3 months in order to maintain scarring to a minimum.
Overview
Melanoma is a type of skin cancer that begins in cells responsible for melanin, or the skin's natural pigmentation. Melanomas can develop anywhere on the body though they are most often developed in areas with most sun exposure, such as the back, legs, arms, and face. However, melanomas can also occur in areas without continuous sun exposure, such as the soles of the feet, palms of hands and fingernail beds.
Causes of melanoma are related to DNA damage that lead skin cells to develop abnormally. Some of the factors that can lead to melanoma can be environmental, genetic, or Ultraviolet Radiation (sun and tanning beds) exposure.
Initial signs of melanoma often are:
Change in size (length or depth), color, or thickness of existing moles
Development of new multi-pigmented or unusual-looking growths on the skin
Unusual moles that may be signs of melanoma usually show:
Asymmetrical shapes
Irregular borders (notched or scalloped borders) and changes in color.
Growth in Diameter: Especially those larger than 1/4 inch
Evolution: Any change in appearance (color, size, length) over time.
While some cases of melanoma are highly visible, there are occurrences of "hidden melanomas." Most cases of hidden melanomas occur in patients with darker skin.
Hidden melanomas include:
Melanoma under a nail, aka acral-lentiginous melanoma.
Melanoma in the mouth, digestive tract, urinary tract or vagina
Melanoma in the eye, aka ocular melanoma, often occurs in the uvea (the layer behind the sclera), causing change in vision.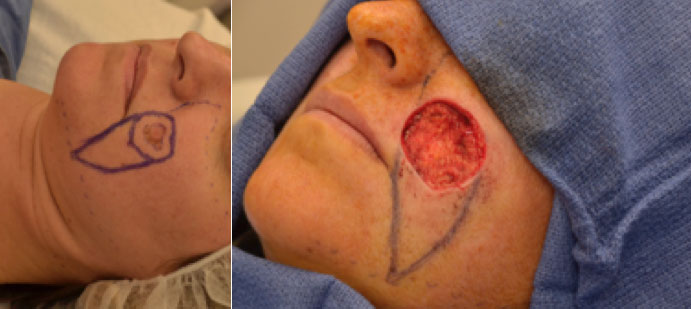 Surgery and Clinical Consideration of the Cheek Region
To reconstruct the patient's cheek, Dr. Zandifar used the V to Y Flap technique. The V to Y technique is an modified version of an advancement flap which is effective in providing a nearby blood supply and reducing possible future scarring. By utilizing local tissue, there is no need for skin grafting or dermis donations. The tissue below the incision is free to move and pulled upwards, providing blood supply that will help speed the healing process. The area underneath becomes Y shaped and is sutured.
Skin cancers of the cheek are most common because of overexposure to the sun. Because there aren't many wrinkles in the cheek area, it is difficult to hide surgical incisions and postoperative scarring. In order to minimize these visible effects, there are several reconstruction techniques. All in all, laser treatments, recommended anti-scarring creams, time, and careful handling of the scar can help eliminate facial marks.
To learn more about skin cancer or facial reconstruction, please visit: www.ohni.org.