This week's case features a patient you may know: me. I had an experience last weekend that gave me insight into the life of a singer. In medicine, we risk becoming detached from how it feels to be a patient. This is the tale of how I reconnected with that feeling.
Many of you know that I became a laryngologist because of my passion for the voice. This started at a young age, as I studied voice and performed locally. I continued my vocal studies through medical school, where enrollment in the medical school choir led me to discover laryngology. I had to hit the pause button on my voice pursuits during residency (where I also hit the pause button on exercise, eating and sleeping) but resumed singing during fellowship. My fellowship director mandated that fellows join the choir and take voice lessons. All the other fellows dreaded this but I would count down the days to practice with excitement. Voice took a back seat again when I moved to LA to grow my practice and family but last weekend, I was hit with the musical bug and knew I needed to study again.
I set up a voice lesson with a trusted teacher and the whole week, I was nervous and excited. As the day approached, nervous overtook excited. I knew my voice was off and that I wouldn't perform my best at the voice lesson. I suffer from allergies and am on sublingual therapy, which has successfully cured me of many of my allergies. However, I'm not done with treatment and still get some symptoms at this time of year. This results in slight vocal swelling from postnasal drip. You won't hear this in my speaking voice but I can tell that it is there. I could hit the same notes, but there would be a slight rasp and it would feel more effortful.
I tackled my allergies and by the end of the day, that edge in my voice was gone. I felt great and my voice lesson reflected that.
This proves so many things. One is that when singers complain of vocal symptoms, they are real, even if minor. Another is that singers may ignore mild symptoms, like slight swelling, because they are accustomed to feeling it and they assume it is normal. They don't seek care because, to them, it is not a change. Removing what probably amounted to 5% of vocal edema gave me the voice I knew I had. I know what your question is and the answer is: no, there's no video to prove this and yes, I should've taken one.
Since this is a Voice Case of the Week, there is some relevant science to discuss. Allergies can affect the voice dramatically. They can leave the singer a little swollen, and that little bit is noticeable. A singer can tell when they are swollen, even when nothing is visible on strobe.
Allergies cause nasal inflammation and increased secretions in the nose. These secretions fall into the back of the nose and then down the back of the throat, onto the larynx. This is postnasal drip.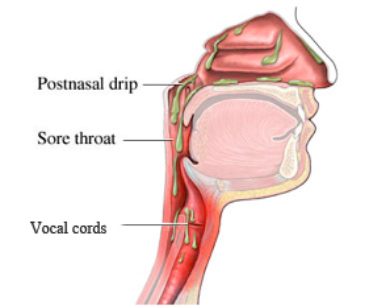 Singers can identify this themselves, without getting a scope. Mucous creates inflammation along its entire course. This includes the back of the mouth, where lymph tissue becomes inflamed and bumpy. We call this cobblestoning and it looks like this:
When you look in your mouth, you can see cobblestoning. It will be in the middle, between the tonsils, on the back wall of the throat. It is not normal to have cobblestoning. The final landing spot for mucous is the vocal folds, where it causes vocal edema, increased effort at phonation (particularly higher notes), and throat clearing. If a singer has cobblestoning, it is suggestive of postnasal drip or reflux and needs to be evaluated. I have a new appreciation now for how much benefit can be gained from that simple intervention.
To learn more about Dr. Reena Gupta or post nasal drip, please visit www.voicedoctorla.com.